Cooking is all about people. Food is maybe the only universal thing that really has the power to bring everyone together. No matter what culture, everywhere around the world, people get together to eat.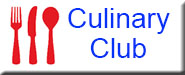 CLUB NAME:Culinary Club
STUDENTS ELIGIBLE:Students who likes to cook delicious things
MODERATOR NAME: TBA
STUDENT OFFICERS: (Names and Class Years)
DETAILED DESCRIPTION: Responsibilities. Set up and stocking stations with all necessary supplies. Prepare food for service (e.g. chopping vegetables, butchering meat, or preparing sauces) Cook menu items in cooperation with the rest of the kitchen staff. Answer, report and follow executive or sous chef's instructions.
CLUB/ACTIVITY CRITERIA TO JOIN (if any):
VENUE: 2nd Class Room
MEETING TIMES (if applicable): Tuesdays & Thursdays (3:00-4:00pm)

CLUB/ACTIVITIES NEWS AND EVENTS: 
---